What to do this summer in Barcelona -2020? Day Trips from Barcelona
After so many comings and goings, with the restrictions and new health and safety regulations, we are all super confused, we no longer know what we can do, where we can go and with whom we can get together. However, we are keeping up to date with everything, so please keep reading.
If you are in Barcelona or nearby we want to share this information with you.
We are a company based in Barcelona, ​​and every day we are updated with all the news and rules to be able to provide the correct, legal and safe services and always offering peace of mind to all our friends and clients.
Looking for a discount for a kayak tour?
This year we have lowered the prices of all our tours, now more than ever you have to think about the whole world, that's why we are working hard to be able to reduce prices and make these discounts in order to offer you a fun and different summer, without the worry of costs stopping you from having a good time.
We are Excursions Barcelona and we want to share with you and all your friends and family the opportunity to take our day trip to La Costa Brava to enjoy a day of sun, sea and lots of kayaking and snorkeling and an affordable way to try your hand at sailing a 12 meter sailboat along the coast of Barcelona which you can read about in our next blog – Watersports within Barcelona – Escaping but not leaving the city.
All our tours are outside on the open sea where we can breathe the fresh air without needing masks and of course that all important dip into the Mediterranean to cool off from the summer heat.
From Barcelona Kayak and Snorkel Tour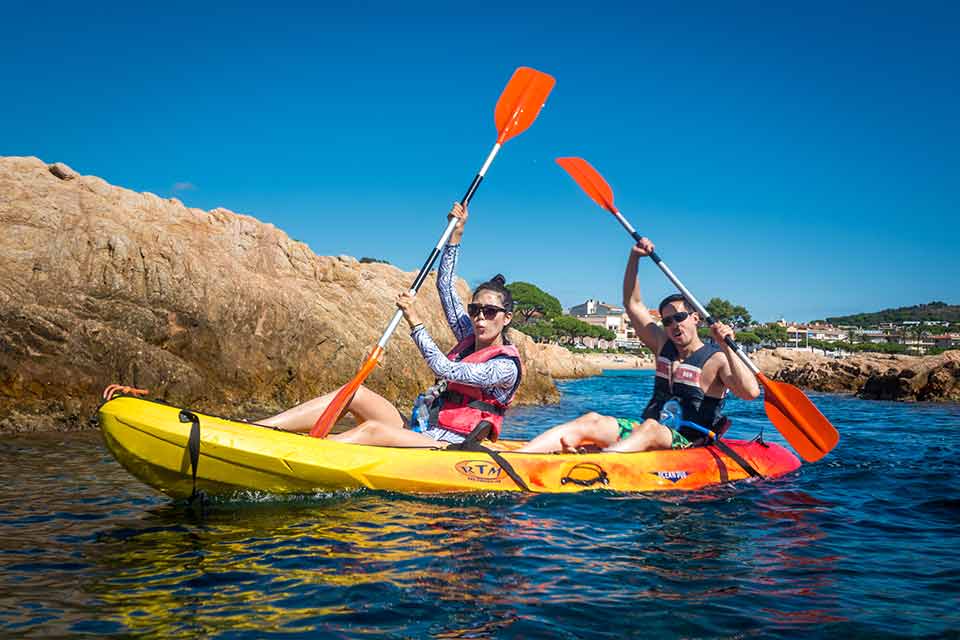 Our Kayaking and Snorkeling Tour excursion to the Costa Brava leaves from Barcelona every morning at 10:00. W​e take you with a private and fully equipped van and follow the current health and safety regulations. For your part, you will only have to come with your mask and follow the guidelines that will be indicated at all times.
We will go to a small village in La Costa Brava, once there the adventure begins with our kayaks and between paddling, we snorkel, explore, laugh, get wet, we can jump from rocks, look at the seabed, hopefully find that octopus and have a great time. Always supervised by our professional and certified guides who will guide you and teach you not only kayaking tricks but show you incredibly beautiful places and corners.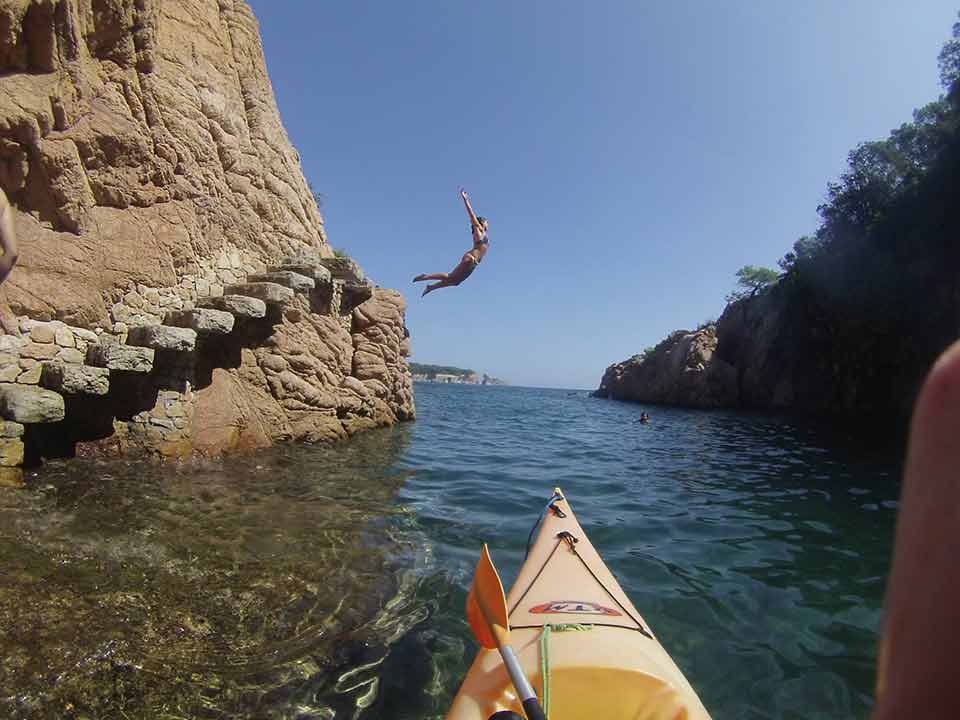 After the main activity (kayaking and snorkeling) we will return to the beach, to our open area to eat sandwiches with fresh ingredients purchased every morning before starting the tour.
For all those who are not familiar with kayaking, we must remember that no one is born knowing how to kayak … however, kayaking is an easy activity suitable for everyone. In addition, our guides will teach you everything you need to have a great time. Basically, if kayaking is on your bucket list, this is your chance to tick that off.
Does the kayak and snorkel tour include food and drinks?
Once the huge sandwich is finished you can relax on the beach, explore the coastal area or have a coffee or a soft drink or cocktail at the beach bar next to our nautical center… because we chose our places very wisely 🙂
We include lunch after the activity but not drinks so don't forget to bring plenty of water with you. Don't worry, when you make the reservation, within seconds you receive a confirmation email with all the necessary information to keep in mind, along with the itinerary and meeting map.
But if you do still have any questions then we are available.
We will wait for you!